Dale Schwarz offers supervision for students working towards art therapy registration, and for professionals wanting to include art as a therapeutic modality in their work with groups and/or individuals; in social service, medical, or educational settings. Her supervision includes discussing client cases and artwork, treatment plans, and exploration of the dynamics that often arise in work settings. You'll have opportunities to practice art therapy techniques, that Dale developed for supervision, that help you reflect on and deepen your learning and creative process.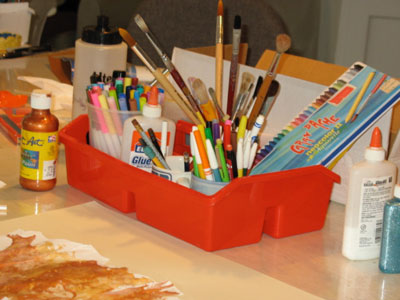 When you expand your skills to include transformational art in your clients, you and your work will be revitalized.
Dale Schwarz is a Registered Art Therapist with over 40 years of experience as a practicing art therapist, working with individuals and groups from ages 3 to 103 in a wide range of settings. She is credentialed by the Art Therapy Credentials Board and has an M.Ed. from Lesley University in Expressive Therapies.
Logistics:
Together we assess your supervision needs and develop a plan that meets your short-term and long-term goals. We meet in person at our studio in Leverett, MA, or by video conference, on a regular basis.